Applications are now open
"Showcase Litter"

(Freya x Saint's puppies due September, 2023)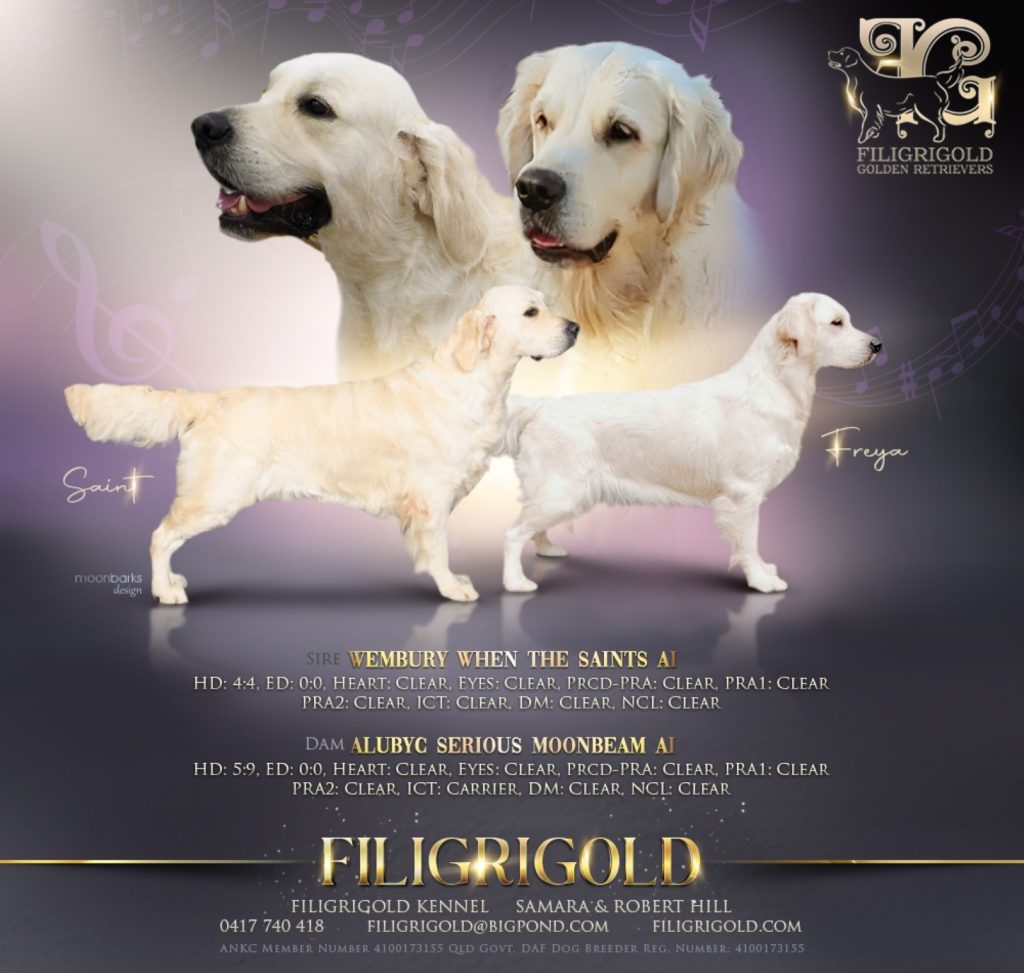 *** PLEASE  read ALL content below BEFORE contacting us about our puppies! ***

It is vital for you to gain a good understanding of our basic requirements and whether we'll be the right fit for one another.

(PLS NOTE: We will not respond to 'broadcast' email enquiries, SMS text messages or PM's sent to our personal facebook page)
At Filigrigold, we invest a great deal of forethought and research into each litter to ensure we produce structurally sound Goldens that are versatile companion dogs true to classic type, and portray the hallmark kind, friendly, confident and biddable nature that Golden Retrievers are so well known.
Our puppies are quite literally extensions of our own family and we highly regard our duty of care to each and every one of them, and we expect you to do the same. Golden Retrievers have a lifespan of up to 15-17 years, so when we entrust you with one of our puppies, we expect you to be certain that you are ready, willing and able to commit 15-17 years to your new family member.
There is a process involved in acquiring one of our puppies and it begins with our Puppy Questionnaire . This form is used to submit expressions of interest and thus does not result in an automatic approval for a puppy. The purpose of the questionnaire is to assist us in getting to know you better and establish your compatibility with one of our puppies and their compatibility with you. This then enables us to discuss a puppy with you that best matches your individual needs, lifestyle and expectations. Please consider this before contacting us because if you are not prepared to complete the Questionnaire prior to discussing a puppy then we will not be able to assist you with a puppy. Similarly, if after submitting the questionnaire you are notified with provisional approval for a puppy,  then you will be expected to attend a kennel visit at the appropriate time to meet us whether you reside outside of Queensland or not (if you are not prepared to do this, then we will not be able to assist you with a puppy).
Many folk presume that they can 'choose their own puppy' from a litter however this is not the case based on twofold rationale:-
when we breed it is to retain a puppy for our own show team/breeding program thus our 'keeper' pup and show pups are selected first.

we are naturally more skilled in helping to compatibly match puppies and families from many years of successfully doing so.

Accordingly, regular assessments of the puppies occur from birth onward. At 6 weeks of age each puppy is temperament tested. At 8 weeks each puppy's conformation is assessed, and it is at this juncture that our own final selections are made. We then reassess the remaining pups, paying particular attention to individual personality and temperament, to ensure we match each puppy with his/her most suitable family.  An integral part of this process is having families attend a "Puppy Family Day" providing us an opportunity to meet with our chosen families, and they meet our puppies. Our puppy family days are arranged when puppies are between 6 to 7 weeks old and are customarily run for two hours (three at most) with attendance being compulsory. The time spent with families and our puppies is beneficial in that it allows us the opportunity to observe valuable interactions between puppies and families both individually and in a group setting. These are our policies and procedures so please respect that we  have them in place for very good reason and will NOT deviate from them… if you do not like them then please do not contact us about one of our puppies.

Our puppies are well socialized and are raised in our home in a family environment. They are exposed to common household noise, sights and sounds and handled on a daily basis. Puppies are ready to leave for their new homes between 9 – 10 weeks of age. All puppies are wormed every 2 weeks from birth. Prior to leaving our care all puppies are vet checked, wormed, receive their first C3 vaccination and microchipped. Puppies come with a comprehensive Puppy Care Pack which includes Jane Hodges' Australian Golden Retriever puppy book, food samples, 6 weeks free Pet Insurance with Petcover, the puppy's own Puppy Portfolio containing pedigree, information sheets and resources covering general health care, training and age appropriate exercise, and diet and nutrition in both our Filigrigold Handbook and Puppy Culture's Age Appropriate Exercise Guide. Additionally, guidance and support is readily available for the lifetime of each and every one of our puppies – we are only a phone call or email away.
Our puppies are registered on the Limited Register only with Dogs Queensland (show puppy enquiries will only be considered from current ANKC members who also have an ANKC registered kennel prefix).
***   Our Puppy Parents Gallery   ***
We hope you enjoy some of our past litter announcements below.
These lovely couples blessed us and our Filigrigold families with some very special babies