Presents
Filigrigold Esquizita AI
Sire:  Jun. Ch. Golden Rose-Bays Original Sin for Zenevieva (BEL)
Dam:  Alubyc Atomic Blonde
Whelped: 28/12/2018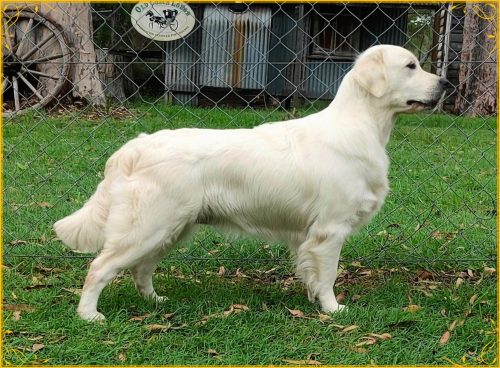 Squizzy – 14 months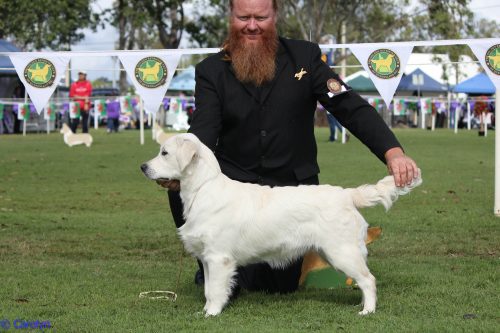 "SQUIZZY" – 6 months at her very first outing in the ring at the  Golden Retriever Club of QLD Specialty Show July, 2019
where she placed 4th in Minor Puppy (Championship Show) and 3rd in her  Minor Puppy class (Open Show).
Squizzy is a dream come true for us and  she has a very promising future ahead of her in the ring and will later join our breeding program.
We sincerely thank Kerrie Kelly from Zenevieva Kennels for allowing us the opportunity to use her spectacular boy 'JJ' and bring his lines into our breeding program.
Pedigree

Parents
GrandParents
GreatGrandParents

Jnr. Ch. Golden Rose-Bays Original Sin for Zenevieva (BEL)

Jackpot Noroy du Plessy
Lux. Ch. & Swedish Showch. Golden Rose-Bay's Ambassador
Geisha Noroy du Plessy
Golden Rose-Bay's Jättefin Belg. Vet.Ch.
Lux Vet Ch. Dewmist Rainbow Warrior Rheinlandjugendsieger 2009
BelgJW Golden Rose-Bay's Boogywoogy
Alubyc Atomic Blonde
Aust CH Zenevieva North Atlantic Drift JD
Can Ch Linirgor Spin The Bottle JW
Aupa Lunar Bay at Zenevieva
Alubyc As If By Chance
NZ Ch Arangolds Bon Chance
Alubyc Indigo Dreaming